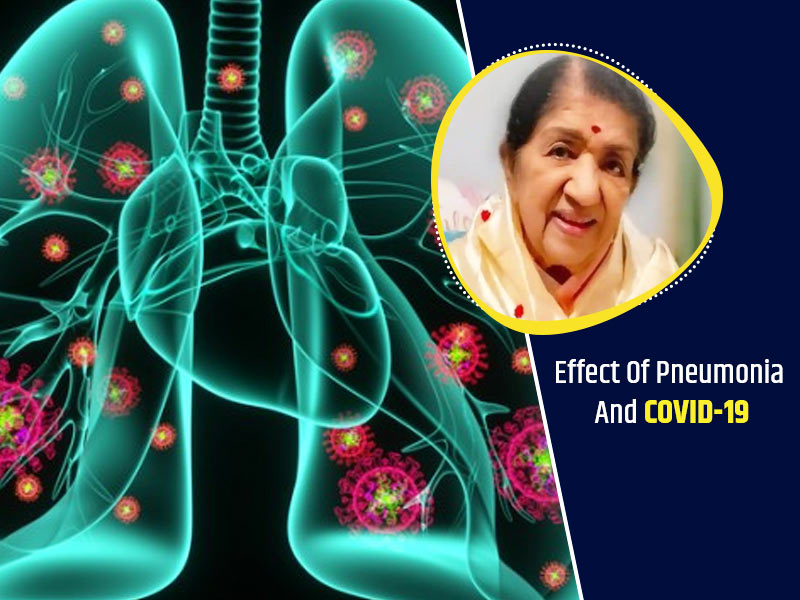 Pneumonia is an infection in the lung and so is corona virus. Both COVID-19 and pneumonia effect lung adversely and cause severe health issues. This can especially prove to be fatal in the old age as the efficiency of lungs deplete with time. Recently, due to rise in COVID-19 cases once again, people are getting infected with virus and unfortunately Lata Mangeshkar is one of them. It is being reported that she already had pneumonia and hence has been admitted to ICU to a hospital in Mumbai. Let us look at the effect and conditions that can arise when pneumonia and Covid viral infection attacks you together.
Singer Lata Mangeshkar Tested COVID-19 positive
Famous singer Lata Mangeshkar has been tested positive for COVID-19. Her niece Rachana Shah has confirmed and told that she also has pneumonia infection. Even her symptoms are mild, due to her age factor; she has been admitted to hospital. Currently she is being taken care of in the Breach Candy Hospital in Mumbai in Intensive Care Unit.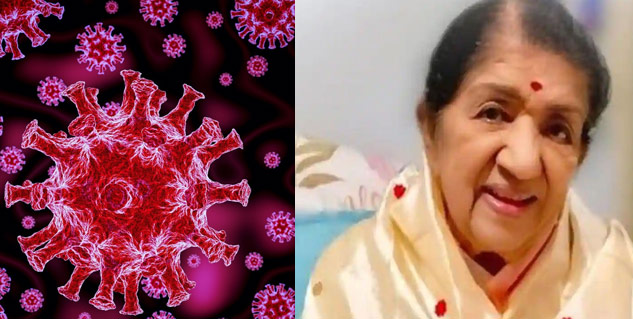 The variant of infection for COVID-19 has not yet been told. Padma Bhushan Singer Lata Mangeshkar has also suffered breathing problems in September 2019 as well. Pneumonia and COVID-19 together can be very problematic to health but hopefully everything would be fine. 
Pneumonia and COVID-19 Effect
We consulted Dr. Sumeet Nigam to know about the health concerns of pneumonia and corona virus affecting together. He told that pneumonia can become a complication for COVID-19 infection. This is because pneumonia can cause small air sacs in your lungs to be filled with fluid; this can increase the rate of infection and respiratory problems. Also pneumonia can aid COVID virus in multiplying and spreading in the lungs at a rapid rate, hence it cause serious health problems and even death.
Link between COVID-19 and Pneumonia
When a person is infected with COVID-19 virus, the droplets of the virus enter your upper respiratory tract and then multiply. During this progression, the virus attacks the lungs and makes it infected. Because of this process, the person may develop pneumonia. 
Also Read- Struggling With Speech Problems? Here Are Some Common Types Of Voice Disorders You Must Know About
Process of Infection
So what happens in most cases is that the oxygen you breathe crosses your lungs and goes into your bloodstream. In this process, it enters the alveoli that are the small sacs present in the lungs which help them to breathe. However, corona virus damages these alveoli and tissues present near them. 
As the viral infection grows in the lungs, the inflammation leads to build up of dead cells in the lungs. This makes it difficult for the person to breathe through their lungs and transfer of oxygen does not happen properly. Therefore some people get infected with pneumonia and later with acute respiratory distress syndrome. ARDS is progressive respiratory failure which occurs when lung sacs are filled with fluid.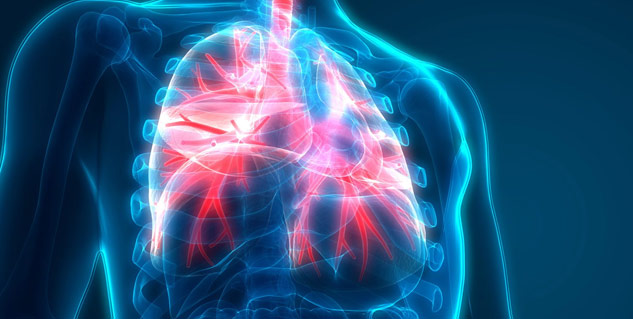 Hence most of the people that get infected with COVID-19 infection and pneumonia are kept in ICU or mechanical ventilation to help them breathe properly. 
How is COVID-19 Pneumonia different from Regular Pneumonia?
The symptoms of pneumonia are quite similar in both the conditions. COVID-19 may have slightly more symptoms depending on the variant of the infection. Because of this condition, the person tested with COVID-19 cannot be ruled out for pneumonia in the initial stages. Here are some conditions that can determine that COVID-19 pneumonia is different from regular pneumonia infection-
Pneumonia that is present in case of COVID-19 affects both lungs as compared to just one in regular cases.
Lungs that have a characteristic "ground glass" may appear in CT scan in condition of COVID pneumonia.
There are other abnormalities in case of COVID pneumonia such as liver function or nearby organs. 
Symptoms of COVID-19 Pneumonia
As mentioned earlier, the symptoms of COVID- 19 pneumonia are similar to that of regular pneumonia. You may get these symptoms if you are suffering from corona virus and pneumonia at the same time.
Fever 
Chills
Cough that increases with time
Shortness of breath
Chest pain 
Fatigue
People with this condition experience more serious problems and complications of pneumonia. Trouble in breathing may increase if the pneumonia is not identified in the initial stages. Also it results to lower levels of SPO2 in the body.
Also Read- What To Do When Food Gets Stuck In Your Throat? Tips By Expert
Risk of Developing COVID-19 Pneumonia
Even though pneumonia can effect anyone, COVID-19 induces pneumonia can increase the risk of complication in three cases. Here are factors that may increase the risk of getting infected with COVID-19 pneumonia
1. Being older than 65 years
People that are more than 65 years of age can be at increases risk of developing serious infection of COVID-19 and pneumonia together. This is possible because the lung function decreases over a certain time which makes it easier for the virus to infect the lungs and cause complication of COVID-19 pneumonia.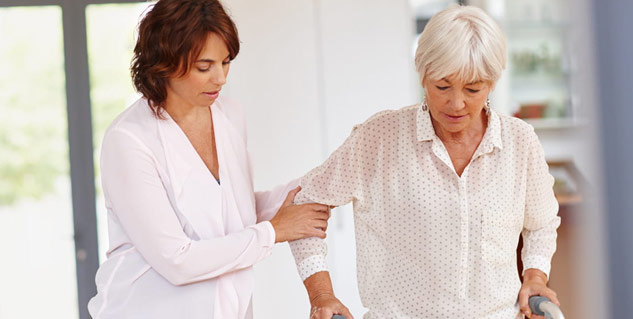 2. Underlying Health Conditions
There could be situations where people already are suffering from some diseases that could increase the risk of having pneumonia in COVID-19. This includes the following conditions-
Chronic kidney disease
Asthma
Diabetes
Liver disease
Chronic lung diseases
Heart conditions
Obesity 
3. Weak Immune System
Having a weak immune system can also increase the risk of COVID-19 pneumonia infection. Unfortunately there are not many ways you can determine having a poor immune system. Therefore if you are sensitive towards health problems of different kinds, it is more likely that you may also have weak immune system. As a result of this condition, there are more chances for you to get infected.
Picture Credits- pixabay.com, Shutterstock.com