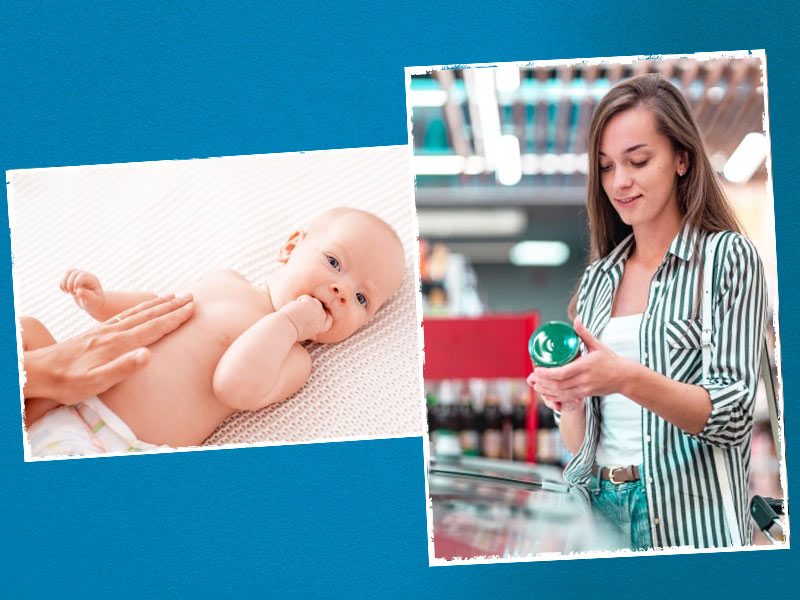 Every parent wants the best for their child and this can be overwhelming with the amount of advice, products and information available online. Newborn baby skin care has always been, if I may say so, a 'delicate and sensitive' matter. The outermost layer of a baby's skin is 30% thinner than that of adults, naturally making it very sensitive and easily prone to infections. With a skin this permeable, it is easier for babies to absorb ingredients from products which come directly in contact with their body. This makes it even more crucial for parents to carefully pick and choose the products they use for their babies. Dr. Samir Dalwai, a Developmental & Behavioural Pediatrician explains how to select organic skincare products for babies. 
Using baby products with organic and gentle ingredients can help hydrating the baby's skin as they don't clog up the pores of the baby's skin even after being applied several times during the day. Moreover, organic baby products are also a good source of healthy nutrients which aid in consistent growth and development of skin cells and vital nutrients making the baby strong and healthy. 
How to find right product for the baby?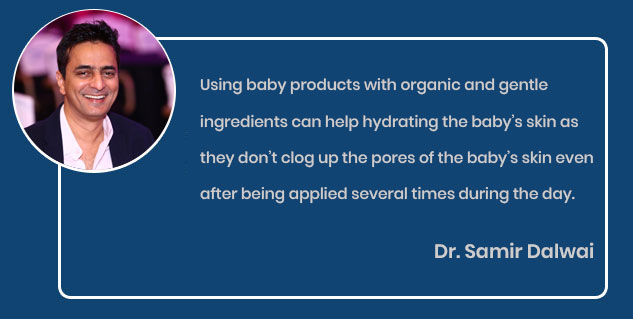 With a plethora of organic products for babies options available at our fingertips, it can sometimes be confusing which one to pick. There is also a misunderstanding that everything natural is organic and vice versa. To understand organic products better and choosing the right options, here's what doctor consider a ready reckoner for parents:
Natural is not organic
Parents often choose products that are labelled 'natural'. However, closer inspection of these labels often reveals that products that are often passed off as 'natural' may still contain harmful preservatives and chemicals (product makers could include only 0.01% ingredients that are 'natural' to be able to market it as such). A proven and safer option for a baby's delicate skin are products that are organic in nature. These are free from harmful chemicals in baby products that cause rashes, eczema, baby acne, and other skin irritations on your baby's skin.
Product Transparency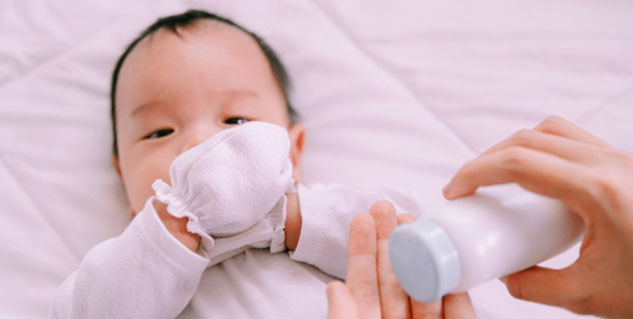 A good and trusted organic product will clearly label out the percentage of organic ingredients used in their products to reassure consumers of its credibility. Every parent must carefully check the composition of the product to ensure that it is completely safe to be used on your little lad.
Also Read: Tips To Take Care Of Your New Born's Skin In Winters
Safety tests
Organic products undergo thorough screening before being brought to the market. Many organic products are cruelty-free and vegan but not all. That being said, research before buying anything for your baby. Do not fall for advertisements and claims that the manufacturers have made. Always be doubly sure before purchasing and trying the product.
Check for absence of synthetic fragrances
Synthetic fragrances, though appealing, are known to cause irritation and allergies on a baby's sensitive skin. Avoid buying baby products that have a combination of petrochemical, ethanol, water and natural gases on the packaging. 
Go through the Ingredients list
Organic products are made out of skin-friendly ingredients which are free from harmful substances, irritants and toxins. These products restrict the use of genetically-modified ingredients while they can still be used in natural products. Common ingredients to avoid in baby skin care products are Parabens, Synthetic Fragrances, Bisphenol A (BPA), Tributyltin (TBT), Oxybenzone, Formaldehyde and Phthalates.
Also Read: Do You Share Bed With Your Newborn? Know The Risks Of Co-Sleeping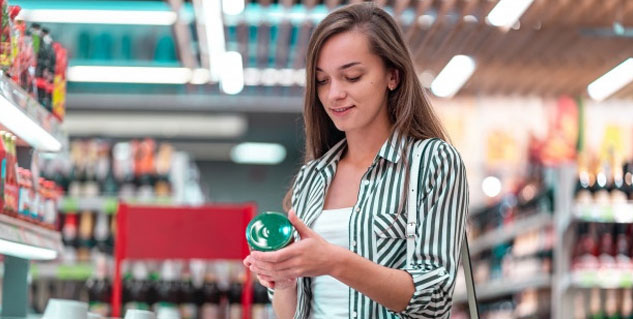 Certifications
Another way to ensure you are making a safe choice is by reading and understanding labels and certifications. Strict certifications including inspections are mandatory for organic products. These certifications restrict the use of pesticides and other harmful and harsh chemicals during the entire manufacturing process through strict inspections and quality checks. One of the most rigorous and trusted certifications available globally to qualify as an organic product is the cosmos organic certification by ecocert greenlife. To obtain this certification, strict inspections are done on how each ingredient used in the product is organically produced, handled and stored. They also inspect the organic integrity of the product from the supply chain process to the packaging. This certification is basically a proof that the baby skincare products you purchase are packed with 100% organic goodness.
Everyone loves baby skin. It's soft and smooth, and it always smells like absolute heaven. Because it's so soft, baby skin requires more attention and care than that of adults. Babies aren't born with a natural skin barrier; it develops over time, so we must choose gentle products for them. Your baby's skin will thank you!
Image credits- freepik